Virtually unheard of in England until recently, Bundt cakes are part of the culture in the United States where they rose to popularity during the 1960s, and at last these wonderful baked goods are making their way across the Atlantic to our shores!
The cakes themselves are usually based on good old fashioned Pound Cake recipes and are most often dense and moist - the kinda cake you enjoy with a mug of coffee, or with a dollop of ice cream as an indulgent pudding!
What gives Bundt cakes their WOW factor is the finely detailed cake tins used to produce them, delivering the most amazing intricately shaped cakes - with designs for virtually every occasion, ranging from the fun such as fairy tale cottages and Christmas trees, to sophisticated cathedral and fleur-de-lis, to the homely shortbread and pineapple upside down cake. Whichever shape you choose, the result will look as though you've spent hours in the kitchen, when all you need do is mix your cake, bake and turn out, then sit back and take the glory!

'Bund' (which is German for a gathering of people) cakes originated in central Europe hundreds of years ago with the kugelhopf tin, when a baker discovered that if a metal tube was placed in the centre of the tin, the cake cooked more evenly and rose higher.
The technique was widely copied and probably taken to America by European immigrants, but it was H. David Dalquist of Nordic Ware in Minneapolis who created the first aluminium 'bundt' tin in 1950 and added a 't' to the end of 'bund'. Bundt is now a registered trademark of the company who continue to proudly make these "made in America" tins.
If you would like to start making Bundt cakes, tracking down the tins (or pans as they're called in America) is becoming easier all the time, mainly, but not only, thanks to the internet. In addition to eBay and Amazon always having stock (just do a search on either for bundt or nordic ware), specialist cook shops are also starting to stock these. If you or friends are heading out to America, make sure they bring you back one of the Nordicware exclusives carried by upmarket US home retailer, Williams-Sonoma (who don't, despite asking, ship to England, the buggers!).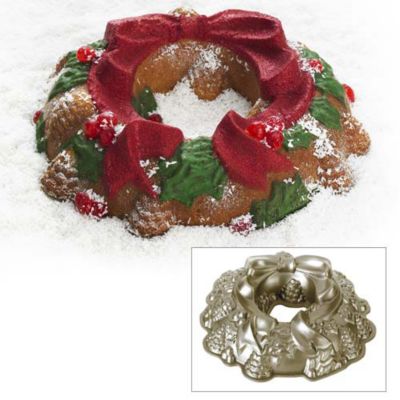 A possible English "breakthrough moment" may have just started with the extremely popular Lakeland store stocking a small range, including the giant cupcake and Christmas wreath tins (the Christmas wreath is currently on sale at the bargain price of £9.99).
£9.99!!!!! Are you mad...
Which brings me on to price... Be warned, these cake tins are definitely not cheap - averaging around £25-£30 each... BUT... they are absolutely excellent quality, really heavy gauge, with a quality non-stick coating and, if you buy Nordicware brand, guaranteed for 25 years. These really will last you a lifetime and be heirlooms of the future. And £25 really isn't that much to pay to make someone's face light up when they get their first Bundt cake, is it?!?!